Tomorrow I Will Date With Yesterday's You / Boku Wa Asu Kinou No Kimi To Date Suru Review
Japanese (romance genre) movies will always be close to my heart.
Why not Korean (romance genre) movies? Many forums have discussion which country does better movies and drama.
How Korean (romance genre) movies works for me is, very entertaining and forgettable, there's a few Korean movies which caught me and i still remember. But just doesn't reach deep into my heart and tug it. Great actors nonetheless. Overall, like i watch, maybe one tear or two, then finish, the end; good movie very satisfied. That's all.
For Jmovie, it's how Japanese movies storytells me into the plot. It is slow and deliberate, much monologues, almost to boring. (Thats why i love WKW films) But but but, by the end of it all.  It usually left me feeling so much for the characters or the plot. Usually haunting, the nice and bittersweet kind….this feeling stays for quite some time. The best i can describe this feeling is – climbing to reach the top of a mountain. The journey make you question when it'll reach, while slowly picking up the scenery and beauty around, tiring nonetheless. By the time you reach the top and take a look at the view. It just comes to you….unforgettable.
For 2017,
First was anime, Kimi No Na Wa – Your Name 君の名は
This film is the second one so far. Well, the genre is so up my alley.
Background
After watching Lim Min Chen movie with wife. Sweetness overload liao. If you don't know who Lim Min Chen, go google.
Usually i will open different tabs of interesting movies and choose which i will watch. So i did, open Pieta in the Toilet, Drowning Love and Tomorrow I will date…in 3 different tabs. I read the synopsis in Kissdrama, the long title de looks interesting leh. Not those conventional type. Ok lai, watch….btw this film not in Singapore yet.

Tomorrow I Will Date With Yesterday's You have Soft Light, dream-like colour grade, in Kyoto setting.
While other movies these days bang in on dark, gritty and moody, high contrast and shadows. Tomorrow I Will Date With Yesterday's You captures the total opposite. Well…many japanese romance genre have light color palette. But this color seemed quite mesmerisingly washed out….and loads of lighting to bring out the effect.
https://www.youtube.com/watch?v=OXSyM_ckayw
Uncle simplified explain of the synopsis:
Boy is Takatoshi – Girl is Emi
Boy spotted Girl in the train, kanna electrocuted(Love at first Sight) and runs after her to ask for her contact. Because he's afraid it's a once in a lifetime sighting. 
I was convinced by Takatoshi body language, expression. Really seems like the first time you speak to your crush. Omg, so shy!    
Girl say yes, ok let's be friends. They spoke briefly and girl needs to catch the train, boy ask if he can see her again? (Of cos la! Goondu!) 
Girl reply, Yes…See you…tomorrow! 
And so the adventure begins…..and ends.
Synopsis Ends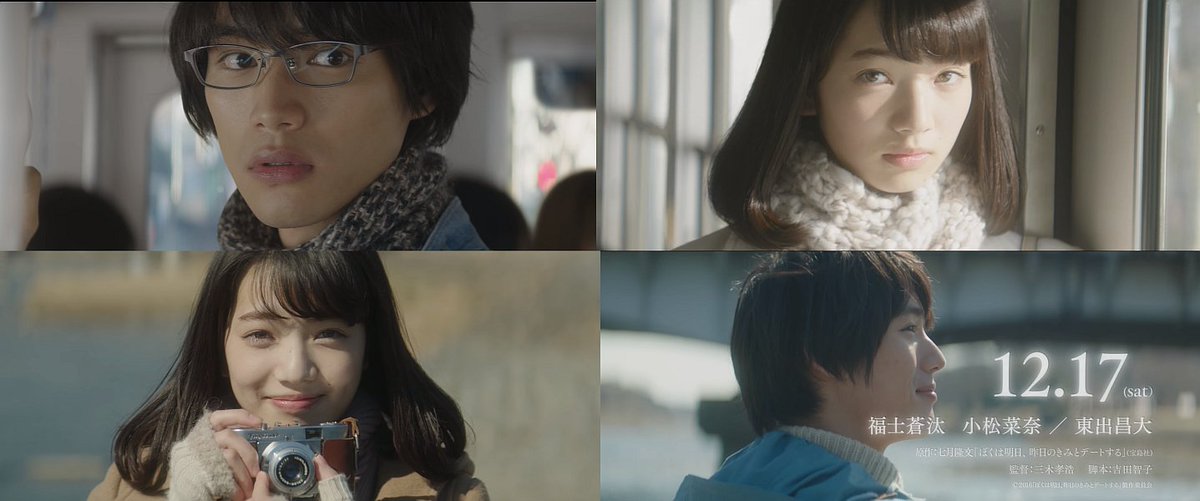 Lots of expressions to catch in this film. Be sure to catch their little gestures during Takatoshi x Emi scenes. (I rewatched 3x)
To be honest, the acting isn't tip top class. However i must say, both actors are very sincere, giving every dialogue and the kind of innocence they both give off are quite well executed.
Soundtracks are great as usual. They know when to cue in the right emotions. Damn slick those editors.
Conclusion
So all in all, is it worth the 150mins?
If you can learn to enjoy the first 50mins, then you'll be floored by the ending. No promises.
Could be confusing, that's why i watched 3x.
Perhaps my biggest takeaway from this film is:
What is "time" to us?
What being together (with our loved ones) means?
How do we treasure the one whom we love?
Writing anymore will spoil the story. Uncle bonus hint: Watch the beginning "train scene"…till she "says see you tomorrow"…at least 3x.
Now i go watch Tomorrow I Will Date With Yesterday's You for the 4th time! Write to me if you're confused…Uncle will help you.
Composer is Suguru Matsutani who also composed soundtrack for legendary movie, Be With You いま、会いにゆきます Ima, Ai ni Yukimasu
Listen to soundtrack here. It's good!!!
Excellent review about the novel (with spoiler)
Why You Should Read Tomorrow I Will Date With Yesterday's You